ECB Rate Decision – Hike 50 bps
ECB Rate Decision – Hike 50 bps
The European Central Bank hiked interest rates this afternoon by half a percentage point – leaving the main refinancing rate at 0.50% and the deposit rate now sits at 0.00%. This is the first time the ECB has raised rates in over a decade and is a very significant move by the central bank, with wide-ranging implications for all those residing in the European Union. The ECB also introduced a new monetary policy tool at today's meeting – Transmission Protection Instrument or TPI – essentially it allows them to hike interest rates without the spreads between the periphery government bonds widening out versus the core countries' government bonds – we saw this during the Euro Crisis. It led to higher and higher borrowing costs for the periphery countries.
Today's decision confirms to the market that the ECB is now more concerned with fighting inflation in the immediate future than had previously been priced in or about it being predictable – as expressed by President Lagarde in her press conference today – LAGARDE: SIGNS OF HIGHER INFLATION EXPECTATIONS NEED MONITORING.
Lagarde, whilst relatively sanguine about the economic outlook for the Eurozone Area, did also suggest that recent data may be pointing to a slowing of economic activity. This leads us to the unusual situation of the Central Bank hiking interest rates in a slowing economy. Of course, this is not ideal; however, the fight against rocking inflation has forced them to do so.
European assets have a mixed reaction on the day, with bond markets rallying, bar Italy and Equity markets fairly flat on the session. Euro initially rallied versus the Dollar and Sterling on the surprise 50 bps hike, but has subsequently mean reverted back to its pre-ECB interest rate decision levels – see charts below. However, we do not see us closing the week at these levels and feel we see further volatility into tomorrow's trading session.
EUR/USD – spike higher on the initial market surprise to the 50 bps hike and subsequent sell-off into the close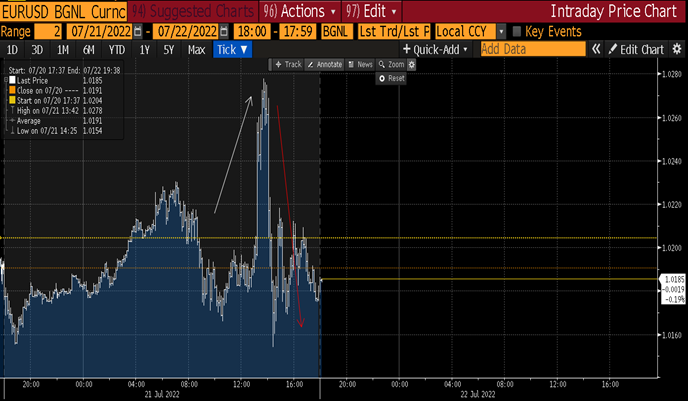 EUR/GBP – similar price action to EUR/USD.