Euro and Sterling – Showing glimpses of life…….
Euro and Sterling – Showing glimpses of life…….
As we have highlighted in our weekly currency market reports over the course of the past 6 months, the volatility in the FX markets has dramatically increased. The price action in G10 currency pairs over the past few weeks has demonstrated the need to have a robust Forex hedging strategy in place. Even if we focus in on the past 2 weeks alone, as EUR/USD broke parity to trade a low of 0.9952 last week – the lowest it's been in over 2 decades – we have subsequently traded over 3% higher this week in the single currency, as the Dollar takes a respite and some of the immediate concerns regarding the Euro have dissipated ahead of the all-important ECB interest rate policy meeting tomorrow.
EUR/USD – 2022 snap shot of volatility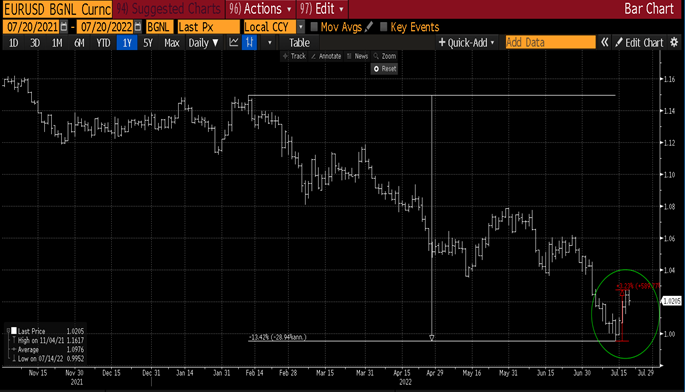 The ECB monetary policy committee will announce their decision on interest rates tomorrow at 1.15pm London time, with a press conference to follow at 1.45 pm by President Lagarde. The board is widely anticipated to raise interest rates for the first time in over a decade tomorrow afternoon. We have had sources leaks this week from the ECB, suggesting that the Central Bank might surprise the financial markets and increase interest rates by 50 bps instead of the widely expected 25 bps hike. A 50 bps hike would be a much more hawkish outcome and we would need to watch the currency rallying back through the all-important break down level at 1.0350 – see chart below.
Euro break down level at 1.0350- highlight below with the purple line – this old support, has now turned into new resistance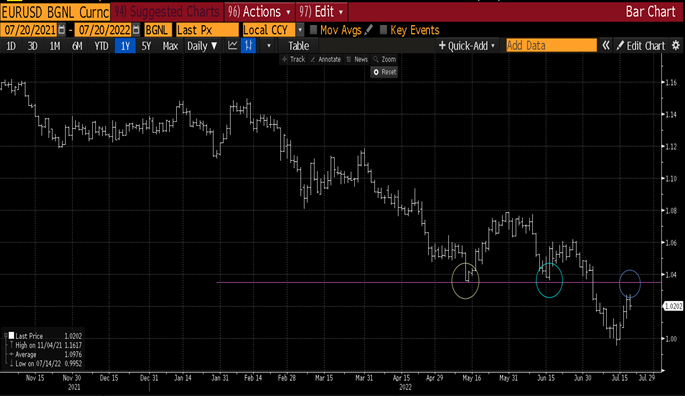 Either way the interest rate decision by the ECB tomorrow, along with information regarding the new monetary policy tool, to be introduced by the Central Bank, to help curb a widening of government bond spreads between the core and periphery countries within the EU will be closely monitored.
We focus on the Euro in this report, as its price action over the next few trading sessions following the ECB will have a major impact on Sterling and other currencies versus the Dollar going forward. Euro should set the scene for other major G10 currencies and hence our focus on it this week. As mentioned above both Euro and Sterling have rallied nicely versus the Dollar this week – leaving the currency pair EUR/GBP to tread water this week.
The million dollar question is though whether these rallies in Euro and Sterling can be sustained or whether there will be a resumption of the Dollar rally. We believe tomorrow's ECB meeting will give us a very good insight into this……. Worth watching.
Disclaimer
The content of this report is for information purposes only. Nothing in this report should be considered financial, investment, legal, tax or other advice nor should it be interpreted as a recommendation to buy or sell foreign currency or any other products or services. Readers must carefully make their own decisions based upon their specific objectives and financial positions.
Treasury First is powered by Assure Hedge (UK) Limited, a company incorporated in England and Wales (No.10723112) with its registered office at 45 Eagle Street, London WC1R 4FS, UK, is authorised and regulated by the Financial Conduct Authority of the UK (FRN:783837). Assure Hedge Limited, the parent company, is incorporated in Ireland (No. 578153) with its registered office at Dogpatch Labs, CHQ Building, North Wall Quay, Dublin 1, Ireland.