Euro versus Sterling and the Dollar – All eyes on the Federal Reserve Interest Rate Decision.
All eyes are on the Federal Reserve Interest Rate Decision.
We are seeing very quiet markets ahead of the main risk events this week, most notably the Federal Reserve's interest rate decision meeting in the US on Wednesday 27th July – The announcement on whether they hike interest rates by 50 or 75 bps will be made at 7.00 pm London time, with a press conference to follow from Fed Chair Powell at 7.30 pm. A hugely important interest rate decision for the global markets, as the Fed tends to set the tone for the rest of the G10 central banks to follow – we believe they will hike interest rates by 75 bps, however, we may see some concerning language from Chair Powell in the press conference afterwards, following a number of concerning economic releases out of the States over the course of July. These include jobs claims data trending higher, alongside concerning updates on hiring from Apple, Microsoft and Shopify, weak Philly Fed and then a terrible PMI print last Friday too, contributing to some respite in the uptrend in the Dollar versus all other currencies bar the Euro.
Financial markets are generally experiencing a summer lull ahead of tomorrow evening's announcement – all bar the Euro in fact. The Euro's woes continued on Tuesday, as other headlines hit the wires concerning gas supply from Russia to Europe – KREMLIN SAYS 'SOME PROBLEMS' WITH ANOTHER NORD STREAM TURBINE. This pressure on the Euro came despite the agreement earlier in the day by EU member states – EU COUNTRIES AGREE TO REDUCE GAS USE FOR NEXT WINTER. The Euro has sold off against both the Dollar and Sterling, with EUR/GBP approaching some interesting levels – see charts below.
EUR/GBP has sold off over 2% since last Thursday and is approaching this 0.8400 (1.1905 in GBP/EUR terms) level. A level we have not been below since the beginning of May – red line in the chart below –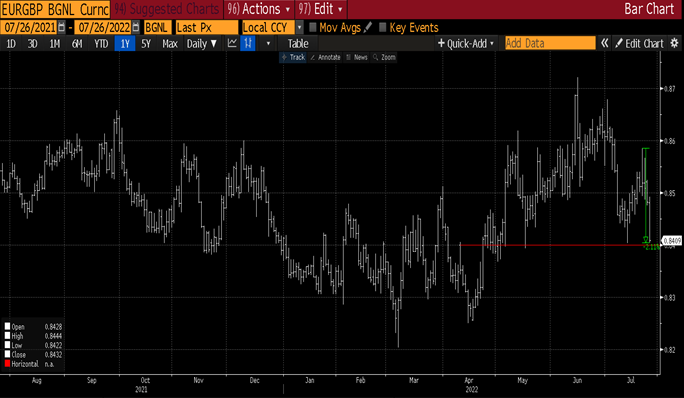 EUR/USD struggles to gain further traction above 1.02 and has slipped below initial support at 1.0120 – (red line) – is parity calling once again…..?