GBP/EUR – The 1.20 level acts as a magnet once again
GBP/EUR – The 1.20 level acts as a magnet once again
Regular readers of our currency market reports will know that we have been watching this psychological level in GBP/EUR at 1.20. This 1.20 level has defined the range since earlier Jan and had not been breached since the beginning of 2020. In fact, we have not been properly above this level since mid-2016 – pre-Brexit. See long term chart of GBP/EUR below –
Long Term Chart – GBP/EUR – 2016-2022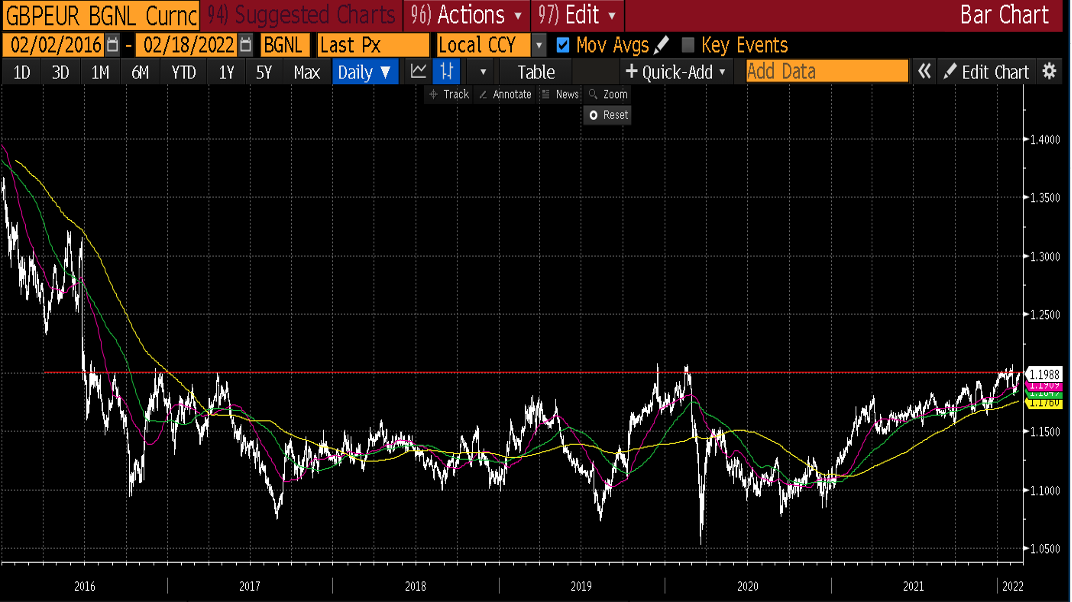 As mentioned previously we have been looking for clues as to whether we would get a continuation of the recent trend higher in GBP/EUR or if the resistance at this 1.20 level would cap the topside momentum and push us back into a lower range. The drama of the Bank of England and the ECB interest rate meetings at the beginning of the month looked to change the landscape somewhat. Although the Bank of England hiked rates, it was a dovish hike, which meant the currency only rallied briefly. The ECB however surprised the markets by opening the door on rate hikes – previously the belief had been the European Central Bank would be the last major central bank to increase rates. This threw the cat amongst the pigeons on the day and the following 2 trading sessions, with GBP/EUR falling back down to a low of 1.1795.
GBP/EUR – Lows post BOE and ECB rate decision meetings –
The market suddenly became very exciting about a more hawkish pivot by the ECB and given the high levels of GBP/EUR – began to sell Sterling and buy Euros.
Geopolitical tensions began to increase over the Ukraine situation over the past 2 weeks. As we have outlined before, traditionally this would be negative for Sterling. A risk-off environment historically tends to see Sterling weaken. This, combined with the actions of the ECB, was, in theory, the perfect storm for GBP/EUR lower. Surprisingly this has not been the case this week and instead of selling off, GBP/EUR has rallied back to this 1.20 magnet level.
There is plenty to still monitor and this maybe just a function of market positioning, however, a break and weekly close above this year's highs at 1.2069, would be very significant – watch this space……
GBP/EUR – short term chart