Geopolitical Tensions Escalate
Geopolitical tensions escalate into a full-scale invasion – 
Regrettably, geopolitical tensions have peaked overnight into what appears to be a full-scale invasion of Ukraine. It appears very insignificant to be discussing the financial markets at times like this and we acknowledge that however we do feel obliged to keep our client base as well informed as possible on the currency markets and the broader implications on them.
Risk, has of course sold off across the board in the financial markets today – stock markets lower, bond markets higher, commodity prices higher ( supply chains cut off) – in particular, oil and gas higher, gold higher and safe-haven currency like the Dollar and CHF higher. Scanning the financial markets however this morning, currencies appeared to be initially quite well insulated, particularly relative to the moves seen in stock markets and bond markets. This was a short-lived calm and throughout the day risky currencies have been heavily sold, with the Dollar and Swiss Franc the stand out winners (losers).
As one would expect this is very much a European issue at its core and we have seen that feed through into the single currency – The euro. EUR/USD has taken a significant hit on the day, selling off almost 2% from its overnight highs, to trade a low of 1.1106 – levels not seen since the summer of 2020
Daily Chart – EUR/USD –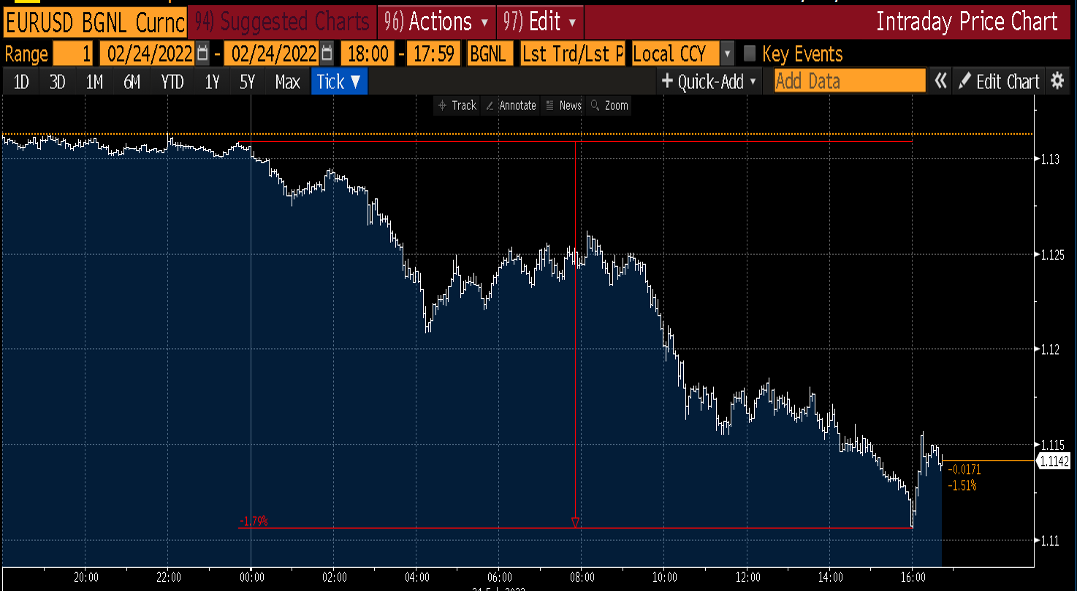 As can be seen from the longer-term chart below – we still have plenty of room on the downside to get back close to peak pandemic lows seen back in March/April 2020 and with plenty more room to play out in this narrative. Further downside cannot be ruled out. One such major risk event will be the full announcement of the allies' sanctions on Russia and Putin's reaction to these sanctions – we should have clarity on this within a few hours.
Longer Term Chart – EUR/USD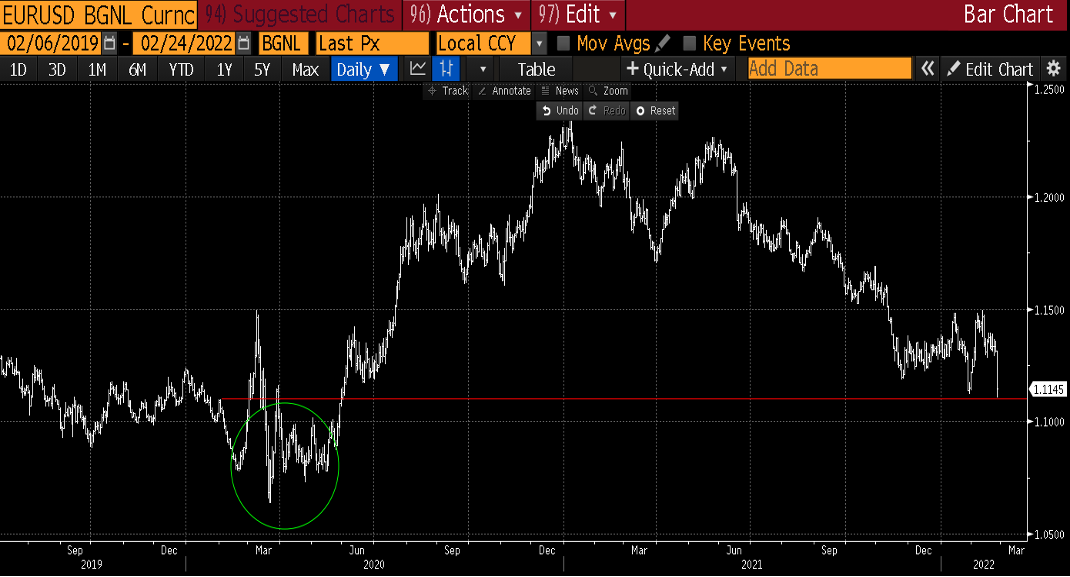 In addition to the Euro taking the brunt of the punishment today, Sterling has also felt the pain particularly versus the Dollar – a nice round 2% decline. The UK's exposure to Russian wealth and its banking system explains this move.
Daily Chart – GBP/USD –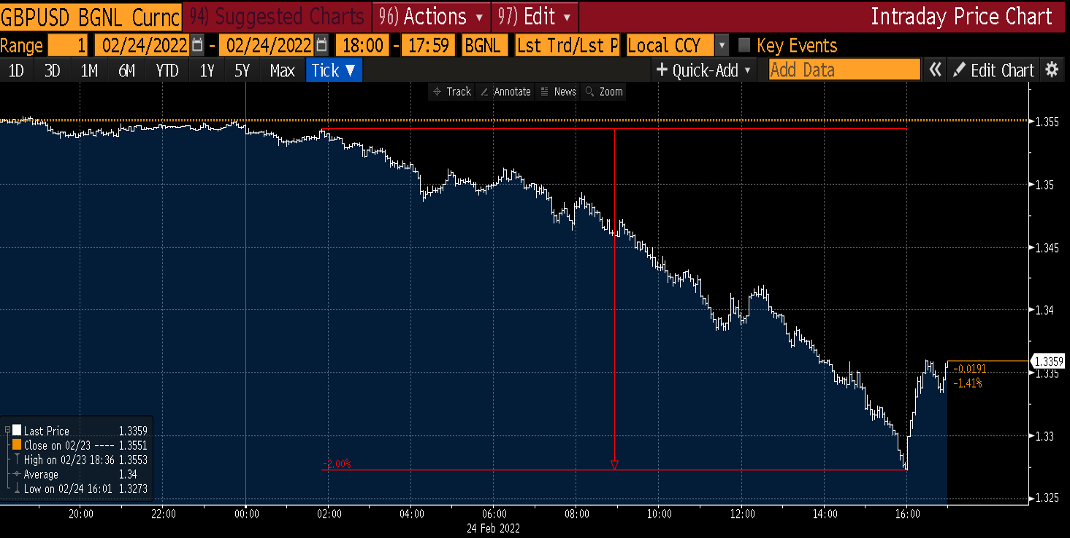 This dynamic, where both Sterling and Euro have sold off against the Dollar, has meant that for the time being EUR/GBP has been relatively stable on the day – see daily chart below.
Daily Chart – EUR/GBP –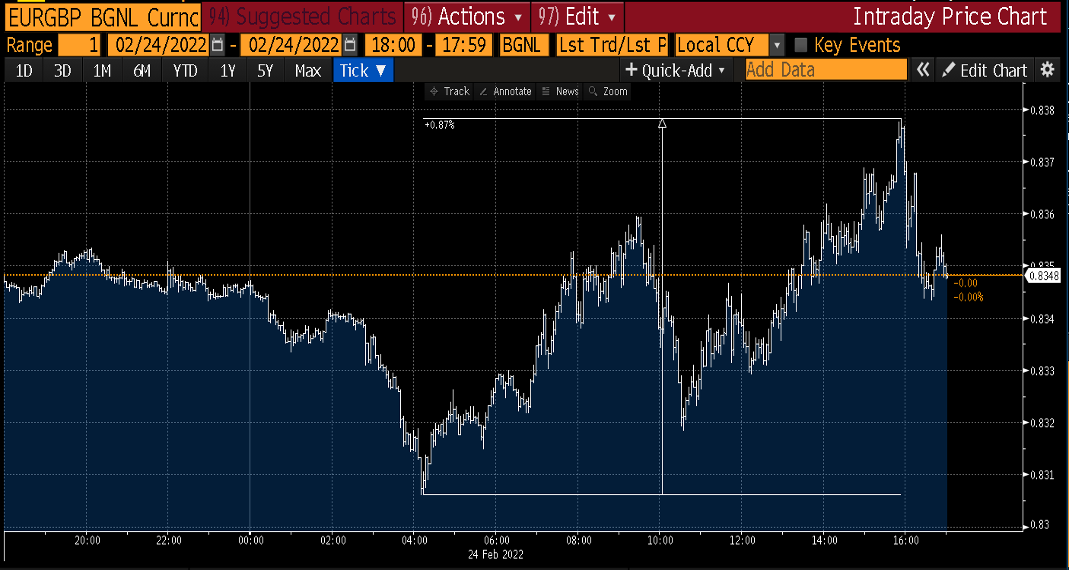 Disclaimer
The content of this report is for information purposes only. Nothing in this report should be considered financial, investment, legal, tax or other advice nor should it be interpreted as a recommendation to buy or sell foreign currency or any other products or services. Readers must carefully make their own decisions based upon their specific objectives and financial positions.
Treasury First is powered by Assure Hedge (UK) Limited, a company incorporated in England and Wales (No.10723112) with its registered office at 45 Eagle Street, London WC1R 4FS, UK, is authorised and regulated by the Financial Conduct Authority of the UK (FRN:783837). Assure Hedge Limited, the parent company, is incorporated in Ireland (No. 578153) with its registered office at Dogpatch Labs, CHQ Building, North Wall Quay, Dublin 1, Ireland.