Sterling – Still causing pain – in both directions
Sterling – Still causing pain – in both directions
Sterling's wild swings in the currency markets are causing all kinds of pain for those exposed – on the way down and on the way back up again in recent weeks. This is when a robust hedging strategy comes into its own and can help smoothen out these extremely volatile periods.
Sterling's volatile swings over the past 3 weeks – both down and back up again.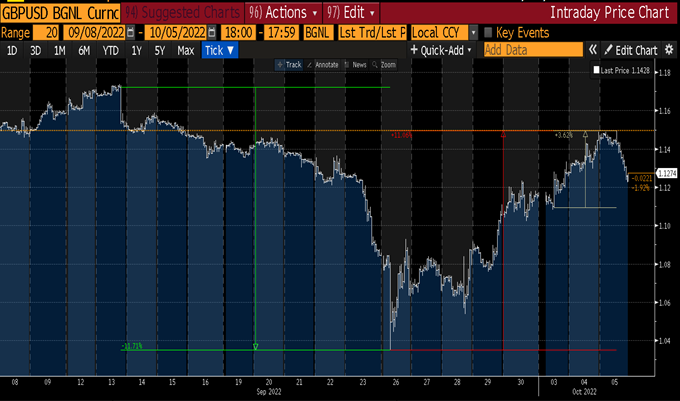 Let's take a step back –
Sterling is grabbing all the headlines of late and rightly so, as the idiosyncratic stories dominating UK politics are leading to outsized moves in UK asset classes – particularly FX. Although domestic issues are having their impact, Sterling is still being pushed and pulled around by the broader market dynamics – giving its moves added venom. This week's price action in the currency markets has been an excellent example of this. We are ultimately (the wider G10 currencies) – being dragged around by risk on/risk off market dynamics.
Risk on – this environment is dominated by rallying equity markets, lower levels in the Dollar, higher commodities and bonds selling off
Risk off – this environment is dominated by weak equity markets, a higher Dollar, lower commodities and a rallying bond market
This week opened up on a positive note – risk on, which saw the Dollar sell-off across the board. This was hugely exaggerated when it comes to Sterling, which rally some 3.6% from Monday to Wednesday morning. Clearly, some of the GBP/USD strength was due to positive domestics developments – the U-turn on higher tax cuts from the Chancellor, however, it was also due to the weakness in the Dollar, as can be seen with the Euro, which rallied nearly 5 big figures versus the Dollar to trade just shy of parity, yesterday evening – see chart below –
Euro's performance since last Thursday versus the Dollar – rallying nearly 4% off the lows, just shy of the parity mark.
Unfortunately, this volatile period looks set to stay for the immediate future. There is very little on the immediate horizon to give us clarity over the global inflation problem, the global energy crisis and onset of winter in the northern hemisphere, the Ukrainian war and geo-political tensions and of course the threat of a potential global recession, in the midst of global interest rate hiking cycle. What we can do is observe some important levels in the major currency pairs, a break of which should give us further insight into future, more medium-term directions.
EUR/USD Levels – to watch
Topside – 1.00 and 1.02
Downside – 0.9530
GBP/USD Levels – to watch
Topside – 1.1500 and 1.1750
Downside – 1.10 and 1.0350
EUR/GBP Levels – to watch
Topside – 0.9065 and 0.9266
Downside – 0.8650 and 0.8600
We can of course also look ahead to any major risk events ensuring we are fully aware of their potential impact on the markets.
This week we have employment figures out of the US on Friday and their inflation print next week on Thursday the 13th. These are the two most important figures out of the US in October and should be closely monitored for their impact on the FX markets.
An Aside –
Worth mentioning the dreaded word – Brexit here – on a positive note for once – there are a few positive noises circulating with regards to the creation of the EPC (European Political Community) of which the UK is to be a member. Liz Truss even attended its inaugural meeting this week which could pave the way for a more cohesive approach down the road….. Fingers crossed.
Treasury First does not guarantee the accuracy or reliability of the information in this message, and any views expressed are not necessarily the views of the company.
Treasury First is powered by Assure Hedge (UK) Limited, a company incorporated in England and Wales (No.10723112) with its registered office at 45 Eagle Street, London WC1R 4FS, UK, is authorised and regulated by the Financial Conduct Authority of the UK (FRN:783837). Assure Hedge Limited, the parent company, is incorporated in Ireland (No. 578153) with its registered office at Dogpatch Labs, CHQ Building, North Wall Quay, Dublin 1, Ireland.